Image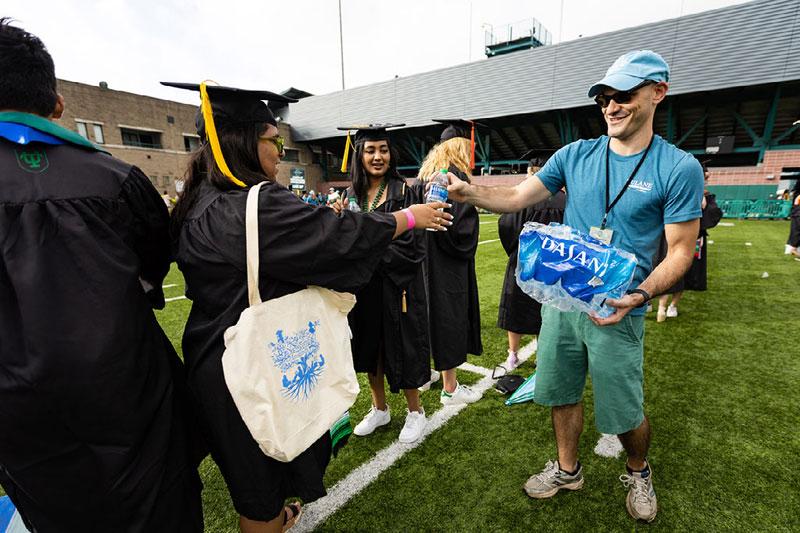 Tulane's University Commencement Ceremony is an event like no other. It's a moment that brings all Tulanians—students, parents, grandparents, faculty, staff, alumni and administrators—together not only to celebrate, but honor the hard work and dedication of students as they receive their diplomas and become our newest alumni.
What is Krewe du TU? (krü dü tü)
Krewe du TU is the staff volunteer force that makes commencement a reality. The krewe includes teams that coordinate both front and back of house event production, including gate greeters, wheelchair ushers, program ushers, student line-up, platform party robing and faculty robing.
Staff volunteers meet and collaborate with colleagues from across campus to participate in one of the most important events of our calendar year. Many krewe members return year after year because of the camaraderie and team building experiences that not only develop effective working relationships with each other, but volunteers are also truly engaging and becoming part of the Tulane family. In addition, commencement volunteers receive:
Commencement volunteer shirt
Commemorative 2024 commencement pin
Free parking and meals on commencement day
Thank You Party
Guest Relations Volunteers
Greeters and Ushers play an role for guest relations and hospitality to the public. Among the tasks assigned to volunteers are: give directions and distribute programs; assist family and friends of our graduates, alumni and other guests in finding seats; assist persons with special needs.
Student Lineup Team
Student Line Up Team members are responsible for lining up 2,800 students (undergrad, graduate, Professional levels) and guiding them to the student seating area.